Hardy, durable maize performs regardless of the season
Ngatea sharemilking couple Ross and Karina Carter have a very effective weapon in their arsenal against the challenges adverse weather creates for farmers - maize.
The Carters milk 400 cows on a 150ha effective milking platform, and the 18ha of maize they grow on farm has performed consistently, regardless of what the weather has thrown at them.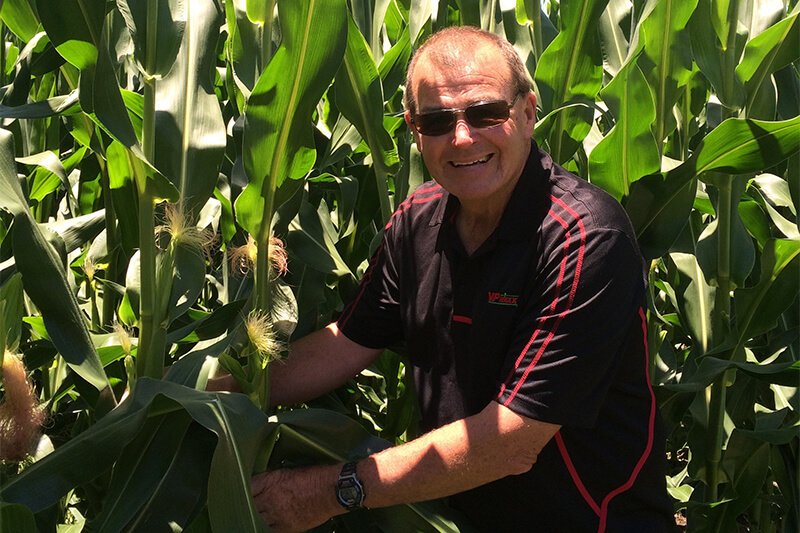 "We've grown this variety - VP577 - for the last four years and it's pretty good," Ross says. "It seems to handle stress – wet or dry – and consistently gives a reasonable yield. It's a hardy plant."
Ross says last season was a tough season, with an estimated 18 tonnes/ha harvested.
"It was so wet we couldn't plant until the end of November, and we had a lot of rain in December," Ross says.
"Our land is hump-and-hollow so the hollows filled with water, and the maize in the hollows, which was 6 inches high at that point, died.
"In comparison, the maize growing on the humps was absolutely beautiful."
Ross says a good season would generally yield around 20-22 tonnes/ha.
Ross and Karina have been on the Ngatea farm for five years, and with the help of maize silage have experienced five seasons of record milk production - the herd producing an impressive 160,000 kgMS last season.
They feed maize silage to milking cows on a feedpad throughout the milking season, which, due to split-calving, is year-round. Silage is fed in variable quantities throughout the season, depending on the weather and pasture availability.
"Maize silage helps keep the cows' energy up in times of high demand, such as calving and mating, and fills the feed deficit when the grass is a bit stalky and there's not much around".
Ross says he has been involved in maize-growing in some way since he was a child and his parents were farming but having the support of VPMAXX® Account Manager Barry Smallridge has been a bonus.
"Barry's experience in the industry is worth a lot, and it's evident in the way he approaches each season differently," Ross says.
"It's great having someone to bounce ideas off. And once the maize is up, he comes around and takes a look to ensure it is growing as it should be and there are no pest issues."
Ross says the 18 ha of maize they grow each season is a perfect fit for their farm system.
"We are happy with the 18 ha area we have grown for the last five years; it has worked well," he says.
"Maize has proven to be a good, durable plant that handles both the heat and wet and produces a reasonable yield, year in and year out. Each season is so different - and we've seen some extremes in the last five years - and the crop has performed every season.
"As long as the weather man doesn't have a say, I don't expect that will change."