Coastal Northland feed gaps no match for maize silage
As former veterinarians, Helensville dairy farmers Don and Kirsten Watson understand the role animal nutrition plays in animal health.
So, when they moved to Helensville two-and-a-half years ago to go dairy farming, they immediately put a maize silage crop in the ground.
"Maize is a great reassurance for the business that there is always high-energy feed on hand that's valuable for filling feed deficits; it's a contingency plan for the pasture downtime," Don says.
"As vets, we have a big focus on metabolisable energy (ME), and this season we saw an ME of 11.5 in a maize silage sample, which is a new milestone for us and very rewarding."
The Watsons are in their third season milking 280 cows on a flat, 112 ha dairy farm, and run some beef cattle on the side.
They lease an additional 95 ha, on which their maize crop is predominantly grown.
While both Don and Kirsten were raised on sheep and beef farms, they practiced as veterinarians for seven and eleven years respectively. However, in recent years the call of the farm became too great to ignore.
"Our contractors said it was the biggest crop they'd ever harvested"
"This is our third season on the property and we just love it," Don says.
"We love so many things about farming: the challenge, the lifestyle, running our own business, the livestock and the land."
Maize was an ideal choice for the profitable, homegrown feed source they were looking for.
"Maize is a great option in our area," Don says.
"The farm is at South Head, and the region is prone to a dry summer and autumn, as it's a bit stuck out on the coast."
"With maize, the yield is already in the paddock before late summer hits, so it's well-suited to our environment."
This season the Watsons are growing 7 ha of maize hybrid VP647, following an outstanding crop last season.
"The crop yielded over 28 tDM/ha; our contractors said it was the biggest crop they'd ever harvested," Don says.
He also adds silage inoculant at harvest time, as he believes a maize crop is "too big an investment to not do the last little bit".
"Inoculant assures the feed quality, and the cows love it," he says.
"It's nice to feed them something with a high voluntary intake; when you go around after them, they've eaten everything available."
Don feeds out maize silage in late autumn, winter and early spring, to ensure the cows are fully fed.
"Maize silage buffers well with the high protein levels of the pasture," he says.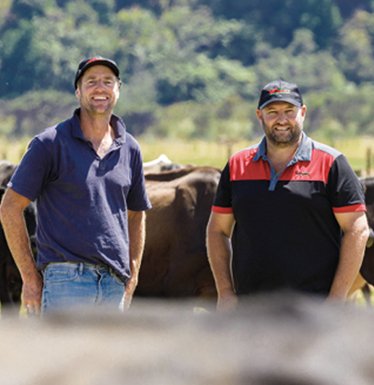 Farming on the edge of the Kaipara Harbour means the Watsons carefully choose the paddocks more suited to maize.
"The farm is a mixture of marine clay and sandy loam, so we make sure we make good decisions about where to plant – and VPMAXX® Account Manager Joe Heng, helps us with that," Don says.
Joe has worked with the Watsons for the past three seasons to select an ideal hybrid and populations to get the best quality maize silage for their system.
"Joe is a wealth of local knowledge and growing experience," Don says.
"We do what he recommends, and the success of our crop has assured us that we are with the right person."